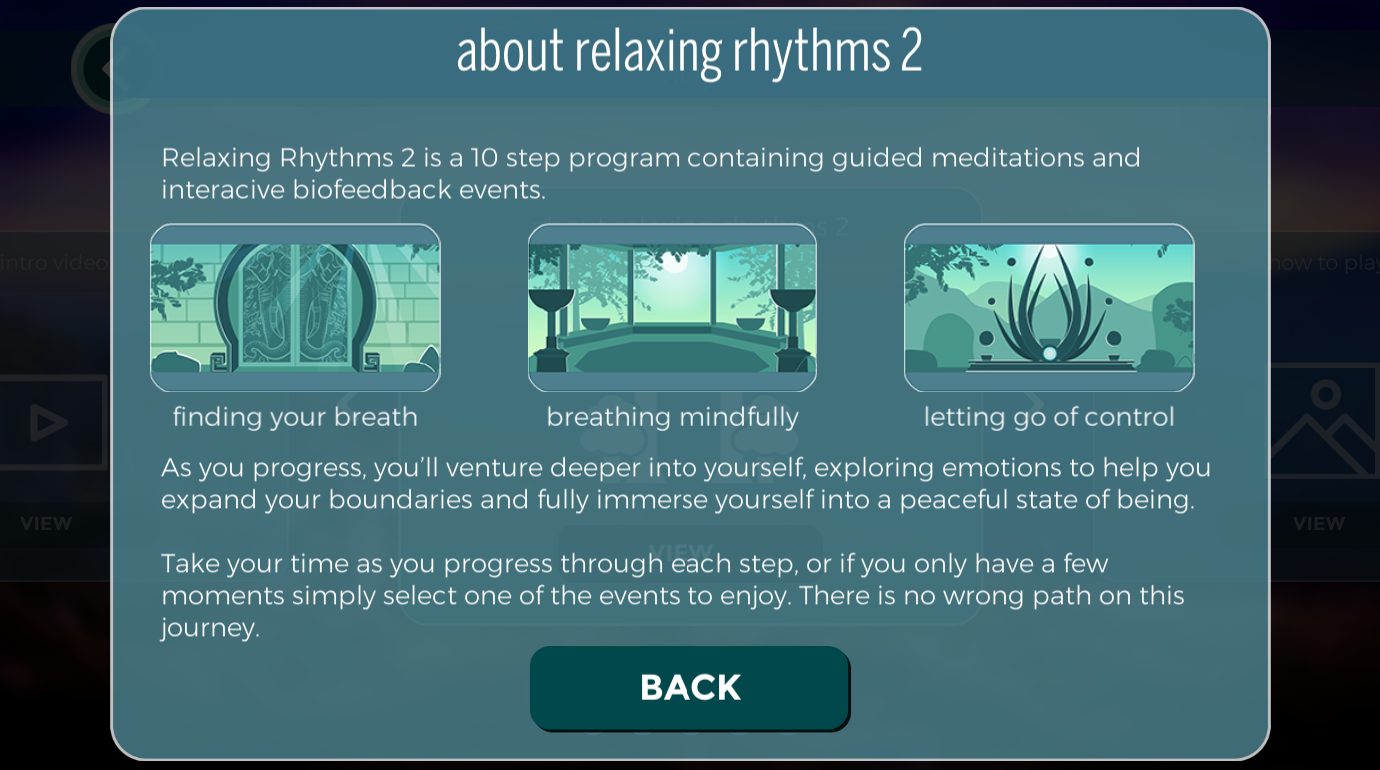 Introduction
Relaxing Rhythms 2 is best enjoyed using your iom2 biofeedback device.
Relaxing Rhythms 2 is a 10 step program containing guided meditations and interactive biofeedback events.
As you progress, you'll venture deeper into yourself, exploring emotions to help you expand your boundaries and fully immerse yourself into a peaceful state of being.
Each step contains three sections that can be explored in sequence or on demand.
First, an introduction about the theme of the step, followed by a guided meditation from a renowned master. At the completion of each step, you will use your breath to conquer different challenges in nine different interactive events. In addition, the iom2 Grapher provides real-time insight into your physiological state.
Take your time as you progress through each step, or if you only have a few moments simply select one of the events to enjoy. There is no wrong path on this journey.
Login & Gameplay
Enter your email address and password to begin the program.
Once you login and arrive on the Home screen, you will have two options: "Start My Journey" and "iom2 Grapher". Once you begin the program, a third option will appear, titled "Continue My Journey".
To begin, select "Start My Journey". At any time you can quit, and your progress will be saved.
Click on the step you wish to do. All steps are unlocked and available at all times so they don't need to be done sequentially, however, we find it most rewarding to follow along with the steps in order.

Step 1 – FINDING YOUR BREATH – Shinzen Young
Step 2 – MINDFUL BREATHING – Thich Nhat Hanh
Step 3 – LETTING GO OF CONTROL – Adyashanti
Step 4 – DISCOVER YOUR IDENTITY – Gangaji
Step 5 – EXPLORING YOUR BELIEFS – Jonathan Foust
Step 6 – RELEASE YOUR WORRIES – Rick Hanson
Step 7 – SOFTEN YOUR HEART- Pema Chodron
Step 8 – FORGIVING YOURSELF – Jonathan Foust
Step 9 – LIVING A COMPASSIONATE LIFE – Sally Kempton
Step 10 – AWAKEN TO YOUR TRUE NATURE – Jon Kabat-Zinn
Settings
For more information on in game settings, please see this article.